Aurora Solo Master Classes – August 2012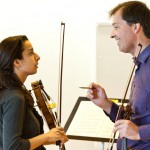 Info: 4 solo master classes in various 5 day periods within the frame dates 7-20 August 2012
– No age or nationality restrictions  – Appl. Deadline: May 15
Master class Professors: Vl– Victor Tretyakov, Stephan Picard, Roby Lakatos Vla– Tatjana Masurenko Vlc– Robert Cohen, Per Nyström D.Bass– Sébastien Dubé Fl– Cecilie Løken Ob-Washington Barella Cl– Yehuda Gilad Bsn– Ole Kristian Dahl Hrn– Michael Thompson Tpt– Urban Agnas Tbn– Jonas Bylund Pi-Konstantin Bogino Vocal– Charlotte Hellekant
Welcome!
Aurora Chamber Music and Musikakademi Vänersborg welcomes young exceptional international artists from all over the world to apply for the Aurora Solo Master Classes in August 2012 in Trollhättan /Sweden.
In recent years, over 1600 amazing young artists from 50 countries have participated during the now world famous Aurora Master Classes & Festivals.
Aurora Music Star Festival will be held 8-19th of August. During this festival we will organize this Aurora Solo Master Classes. There will be only a few such places/instrument for this concentrated master class as the festival already contains other master classes, chamber music and orchestra with hundreds of participants from around the world. Aurora is proud to always present very prominent leaders of our master classes.
For a 5-day period with 4 solo master classes, you pay a course fee of 6000 SEK. Each lesson is 45 minutes. If you want accompanist you have to arrange (and pay for if asked by the pianist) that yourself, we can provide you with contact information to the many festival pianists.
There might be a possibility to play, perform and receive lessons in chamber music. This is defined by number of selected students and instruments. Notification about chamber music will be sent out shortly before the course.
The course fee of 6000 SEK don't cover your traveling expenses, accommodation or food. However you are very welcome to use Aurora's very reasonable and special offers for food and accommodation.
Relish the chance to perform in public and exchange creative ideas. Take risks, inspire audiences, meet people and have fun.
Become an integral part of a performing arts community of which many of the world's most important performers are also members.
We take pride in what we offer our participants so take time to read all of the information in the menu to the right before you apply, so that you know what the Aurora Master Classes & Festivals is all about.
Welcome to Auroraland!
Ola Larsson/General Manager and Per Nyström/Artistic Director
If you want to apply for this course please read all the informations in the right-hand menu